Artist and tour management – we create emotions!
Artist manager Frank Ehrlich founded the company in 2000. Our mission: promoting good entertainment and exciting event formats for our clients as best as possible.
blue art event is an international full-service agency for artists and event managers. We are a full-service artist management representing DJs, acts and solo artists specialized in House-, Electro- and Dancemusic. We organize and coordinate events, concerts, tours and B2B travel for artists worldwide. We work closely with all relevant platforms internationally: TV stations, radio and press as well as leading labels and producers. We open doors for artists and promoters that were previously closed to them.
Currently we exclusively represent artists and projects such as CASCADA, R.I.O feat. U-Jean, Darren Bailie of the Guru Josh Project, Ida Corr, Ally Jax, Henry Himself and others.
In the booking market for House-, Electro- and Dancemusic blue art event is internationally one of the leading artist agencies.
Contact us! We are looking forward to working with you.
Artist management, incl. coordination of marketing and promotion
Event management and tour management
Live show production and event organization at the venue (light, sound, visuals)
Music management and business consulting for artists
Providing contacts and networking with label managers, A&R executives and music producers in order to achieve an optimal impact.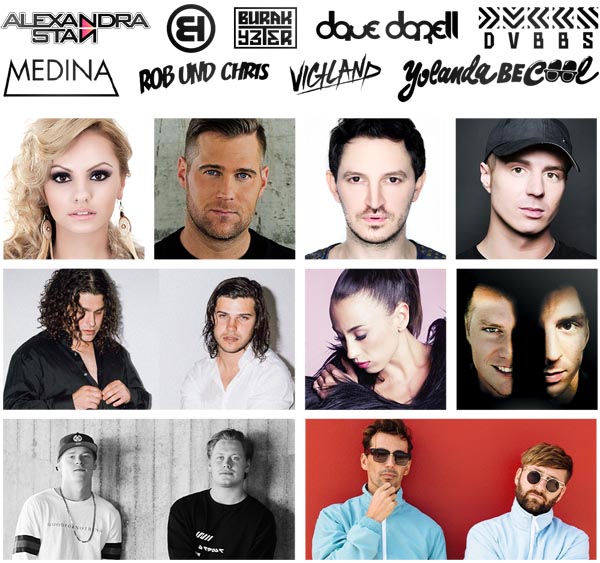 Artists
We have been active in artist & booking management all over the world for more than 21 years. We coordinate tours, manage artist calendars and plan performances with the organizers to create emotions. If you like transparency & fairness, we look forward to deliver a professional appearance with one of our artists. Ask for your artist here. Even if an artist is not listed here, we have already worked with all categories of artists over the past years. We take care of your line – UP!
Tour management
You are an artist and can answer at least one of the following questions with "yes"? Then we would like to invite you to find solutions together with us:
• You need a booker who acquires and arranges live shows with event promoters?
• You need a tour management that coordinates a tour or concert trip and guarantees a reliable budget planning?
• You lack professional staff for the planning and use of live technology and lighting equipment?
• You want to perform live in a new market or promote your productions worldwide?
• You don't want to deal with dozens of booking agencies in different cities and countries?
Entrust these tasks to blue art event! With over 21 years of experience in the event industry, music manager Frank Ehrlich and his team have built an international business network. With experienced professionals, including bookers and tour managers, we are able to professionally manage every phase of a tour.
• Scouting of venues, shows and festivals.
• Acquisition of bookings and drafting of contracts.
• Coordination and communication between all parties involved.
• Time schedule and line-up of the event, incl. checking and scheduling of other performing artists (e.g. for big events and festivals).
• Booking of transport, incl. transport insurance.
• Booking of hotels, planning of backstage areas and catering.
• Organization of autograph sessions or "meet & greets" with fans and guests.
• Sound and lighting equipment as well as technical equipment for the production of videos.
• Stage set-up and production at the venue.
• Personal support and assistance by qualified tour managers.
• Advertising management and public relations.
• We support you in finding realistic goals and becoming successful – from the early development phase to an international artist career.
• Evaluation of new distribution channels for your releases and performances.
• Acquisition and planning of meetings with potential sponsors and business partners.
• Organization of media presence and publicity.
• Arranging contacts to producers, labels and media.
• Acquiring and arranging contracts with decision makers.
• Schedules, artist calendar as well as coordination and reminder of all appointments.
Artist Management
To succeed, you need to be good at many things: Making music, designing artwork, organizing tours and more. You need to be able to market yourself and find enough fans to achieve sales stability.
Our goal is to support our artists at every stage of their career and help them to achieve success. Through our full-service artist management, our clients are not only fully backed up in the previously mentioned tour management. We also provide you with top-quality support in everything else that has to do with your career.
With us as your artist management you save time and money and can concentrate on your passion: your music. You don't have to deal with multiple contacts, travel expenses and other organizational and technical issues. Our experience also reduces the number of unpleasant surprises in the music business.
We take into account the interests, needs and wishes of you as a musician as well as those of the decision makers in the music business. In the end, everyone wins.
Services for event managers
Book an artist
Choose blue art event to book a popular act for your next event! We match your needs with those of the top artists, their teams and our resources.
As a booking agency and artist management we have been organizing events in numerous countries around the world for over 21 years. Our mission is to match artists, bands and promoters appropriately. Your event will be a great experience and entertainment for your audience, the artists and your region.
Book your preferred show with us! With our experience as an artist agency and in event planning you are always safe with the realization of your event. We organize the show together with you to create emotions and good entertainment for your guests.
When may we book showacts for you? As an experienced artist agency, we make collaborative event planning easy, transparent and fair: from your request and our offer, through the planning phase and technical organization in your location (with our tour manager), to the follow-up.
Book an event
You want to book several artists for your event or find a booking agency for your festival or party? The planning of such a highlight is time-consuming and the budget compliance seems to be difficult? We solve your problem!
We are proud to exclusively represent some of the best artists in the industry. Just ask us for the artists you want. We'll take care of your lineup.
If you're looking for an artist we don't exclusively represent, we're happy to assist you as well. We have already worked with most of the big names in the house, electro and dance music scene. We guarantee – even without our exclusive artists – professional event planning, a suitable schedule and fair costs.
Solutions for the music business
You are an employee of a music label or another company in the music business? You are looking for a booking or artist management agency because there is a demand for events or tours for your artists.
blue art event is a reliable B2B partner for artist management or tour management:
• With our international focus, we offer the advantage of supporting labels to make their artists even more known worldwide.
• We offer management and booking services for labels with house, electro and dance artists.
• We arrange and coordinate live shows, events and tours either nationally or internationally.
• We coordinate bookings and promotional appearances that match the timing of the artists' releases.
• We coordinate cross-promotional events that drive record, streaming and ticket sales for the artists.
• We handle all tasks from concept to deadline.
Contact us to learn more about what we can do for you!
References
BILD (BRD) | The Sun (UK) | New York Times (USA) | Bunte (BRD) | BRAVO (BRD) | Gala (BRD) | BILD AM SONNTAG (BRD) | Welt online (BRD) | Süddeutsche (BRD) | RTL (BRD) | GMTV (UK) | M6 (France) | Disney Channel (USA) | Star Academy (LIBANON) | BBC (UK) | Pro7 (BRD) | SAT1 (BRD) | ARD (BRD) | ZDF (BRD) | NDR (BRD) | Deutsche Welle (INT) | 1 Live | Radio 1 | Z100 | WKTU | B96 | NRJ | Satelite Radio | Miami Y100 | Z103.5 | RTL
Our Newsletter
sign up for our newsletter and don't miss anything.